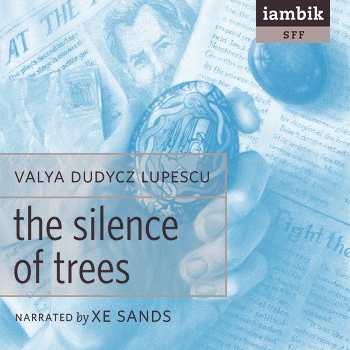 You may recall a few months ago, when I posted a Storify link to Xe Sands' live-tweeting of my novel, THE SILENCE OF TREES.  You can see the story here.
I love audiobooks, and it really is a dream-come-true to have THE SILENCE OF TREES in this form. I always heard the protagonist Nadya's voice in my ear as I was writing it–it's very much an story told to someone (ironic for a character who has so many secrets). I'm delighted that Xe was the woman to bring Nadya to life!
Now THE SILENCE OF TREES has finally been released on audiobook by Iambik Audio, narrated by Xe Sands!
You can purchase it on the Iambik website, and it will be on Audible in a few weeks' time. (I'll post when it's up!)
In the meantime, we are getting ready to offer a unique promotion for the kick off of the audiobook.  I'll post details soon!
Spread the word, and I hope that you enjoy it!