I have two longer blog posts to finish up, but I wanted to be sure to tell you about an important literary event coming up in Chicago this weekend. If you've been reading my blog for a while, you've heard me mention various things about the Chicago Literary Hall of Fame, an organization dear to my heart. This Sunday, August 24, the Chicago Literary Hall of Fame is holding their fourth silent auction at the Haymarket Pub & Brewery from 5-8 p.m. The gracious and talented David Eigenberg is our special guest.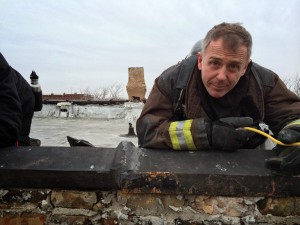 A Chicago-area native, David Eigenberg  graduated from Naperville Central in 1982. He was attending Washburne Trade School at 31st and Kedzie when they went on strike, an event that changed the course of his life.
"I had nothing to do," David recalls. "Didn't know how long the strike was going to be. A week into it, there was an audition."
David tried out and was cast in the chorus of the play, One Shining Moment, and that put him on the path that lead from the U.S. Marine Corp Reserve, to acting school in New York, to one-off parts on shows like Homicide: Life on the Streets, ER, King of Queens, Ghost Whisperer and NCIS, and his eventual breakthrough role of Steve Brady on the popular show Sex in the City. 
Three years ago, David was cast in the role of Christopher Herrmann on Chicago Fire, a show filmed entirely in Chicago. He returned to Chicago, and together with his wife, Chrysti, their five-year-old son Louie, and five-month old daughter Myrna,  they now call Chicago home from their Bucktown bungalow.
We are so grateful for David's time and support of the auction.  I hope that you'll take this opportunity to come to Haymarket and say hello, meet David, and support the Chicago Literary Hall of Fame.
With the money raised, the Chicago Literary Hall of Fame will come closer to realizing their potential of being the primary champion of Chicago literature, finding additional ways to celebrate Chicago's literary heritage and honor the writers who have shaped it.
Later this year, on October 4, we will present the 2014 Fuller Award to Harry Mark Petrakis at the National Hellenic Museum; and on December 6, 2014, we will hold our fifth annual induction ceremony honoring Margaret Anderson, David Hernandez, Edgar Lee Masters, Shel Silverstein, Willard Motley and Margaret Walker.
I hope to see you there this Sunday! You can buy your tickets at:
http://clhofsilentauction2014.eventbrite.com/