I was delighted to be a part of the "Trapped" Reading last week at Trap Door Theatre in Chicago when the publisher Whiskey Tit arranged for two of its writers (who happened to be of Ukrainian descent) to fly into Chicago for a reading.
After a tasty dinner and lively conversation with Stefan O. Rak and Svetlana Lavochkina, we moved over to the theatre and welcomed guests.
The audience was enthusiastic, the musical accompaniment provided an unusual, creative twist, and both Stefan and Svetlana were wonderful and engaging readers.
I had broken my reading glasses an hour before, and one of the members of the audience was kind enough to lend me their glasses for the reading. It helped. 🙂
Jennifer B. Larson, another member of the audience shared her zine, Pulp Oddyssey, with me after the reading. It was fun to be handed a print zine. (I will always love the feel of paper and newsprint.) You can learn more at: www.disappearingmedia.com
I don't get to go to nearly as many readings as I would like to–one of the many challenges of being a parent of three and a working writer. I love getting the change to hear a writer read their own work live, especially when that writer is an excellent reader, as were both Stefan and Svetlana. I was caught up in both their stories, and I cannot wait to read their books! I'm also thrilled to have finally met Miette Gillette, who is doing an amazing job with Whiskey Tit. I look forward to following what her press and authors are doing in the future.
You can purchase their books direct from the Whiskey Tit website or on Amazon! 
The rest of the week was devoted to Chicago Literary Hall of Fame Fuller Award ceremony planning, spending time with friends in from the UK, and closing off the weekend by celebrating Liam's performance at Thirsty Ears Music Festival, put on by his fabulous music school, ACM (Access Contemporary Music). I can not say enough about the instructors and staff at ACM. They are incredible musicians and generous, patient, and supportive teachers.
In the afternoon, Liam performed his original piano composition "Mist" on a gorgeous baby grand:
Then the evening closed out with ACM's Sound of Silent Film Festival screening, where Liam's Film Score class had the opportunity to watch a live ensemble perform their original musical score for the film, Hope by Michael Scherrer, performed by live musicians. It was remarkable. Each of the 5 students, ages 13-17, wrote a minute's worth of the composition. The class was run by the incomparable Trevor Watkin, a talented musician, composer, and instructor.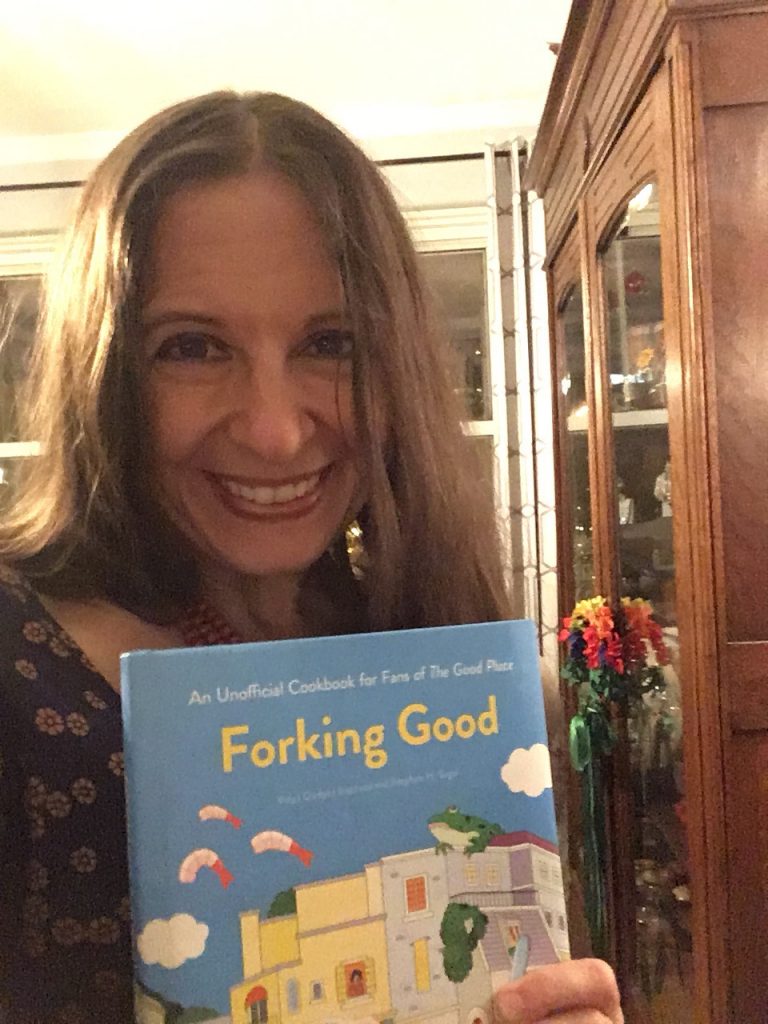 AND our advance author copies of FORKING GOOD arrived! They're beautiful, and we are so excited. We can't wait until October!
If you want to get a copy in your hands before the release…during August, there is a Goodreads giveway to win 1 of 25 advance copies of the cookbook. The giveaway ends 8/30 and is U.S. only.
You can sign up here: https://www.goodreads.com/giveaway/show/295726-forking-good-a-cookbook-inspired-by-the-good-place